Sale!
Northern Standard Native Elite Cartridges
$300.00 – $2,000.00
Compare
Northern Standard Native Elite Cartridges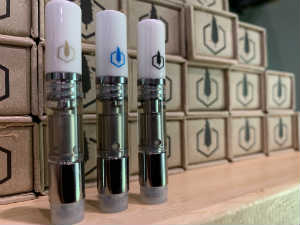 Northern Standard has emerged as one of the top vape brands in Colorado, offering up a wide assortment of cartridges and oil varieties. Their flagship line, the Native Elite cartridge, provides consumers a highly-refined blend of CO2 extracted distillate and terpenes that never compromises on the integrity of the cannabis plant. In fact, all Northern Standard cannabis oils are extracted from single strains of organically grown plants and contain only native terpenes. Additionally, all Northern Standard cartridges, including Native Elite cartridges, are free from non-cannabis terpenes, synthetic flavorings, propylene glycol, or any other potentially harmful additives. The Native Elite distillate cartridges by Northern Standard are truly some of the most pure and refined products on the market, consistently ranking high in the top categories for vape products in Colorado. Pick one up today and experience a smooth, flavorful, and powerful distillate vape cartridge.
| | |
| --- | --- |
| Strain | Sativa, Indica, Hybrid |
| Flavors | Blackberry Kush, Blue Dream, Chem Dawg, Cherry Pie, GSC, GG#4, Grand Daddy Purp, Jack Herer, OG Kush, Sour Diesel |
| Quantity | 10 carts-$300, 15 Carts-$450, 25 carts-$625, 50 carts-$1250, 100 Carts-$2000 |